Welcome to the UC Santa Cruz Faculty Association Website!
This website is a resource for staff, students and faculty about events and activities that are relevant to our UCSC community, especially to "terms and conditions of employment" of academic senate faculty members, who are our bargaining unit. Here we provide space for comments (blog format) and welcome them from the entire UCSC community and visitors. We hope it will be a place to find out about events and locate documents and resources. Our main focus is UCSC and the Santa Cruz community because excellent system wide blogs and websites already exist.
Latest SCFA News and Issues:
Spring Forum  "Online Education & UCSC: What's next?"
Friday, April 26 – 3:15-5:00 p.m., Stevenson College, Event Center
Panelists (see below) will tackle the big questions surrounding online education: How will the role of the professor change? What are the risks to faculty member's intellectual property? How will online courses be assessed, and who will determine the measures for success? The event will be moderated by distinguished UCSC Alumna, Lois Kazakoff, Deputy Editor for the San Francisco Chronicle. We hope you can join us for this spirited discussion!
Panelists: Daphne Koller, Co-founder of Cousera, Professor of Computer Science, Stanford University Robert Meister, Professor of History of Consciousness, UCSC and SCFA member Rodney Ogawa, Professor of Education, UCSC Alison Galloway, Campus Provost and Executive Vice Chancellor Matt Hong, UCSC Student Organization "New School" Moderated by Lois Kazakoff, Deputy Editor for the San Francisco Chronicle, and UCSC alumna (Cowell 1976)
For more information on this forum, and previous Senate events on online education, please click here: http://senate.ucsc.edu/senate-meetings/senate-forums/2013-april-26-forum.html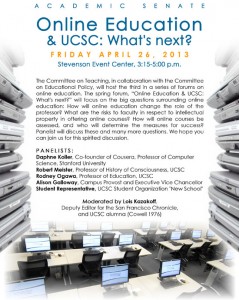 *******************************************************
March 5, 2013
The SCFA learned last week that the University signed a contract with Coursera without including them in the discussion.  The SCFA, as the bargaining agent for UCSC faculty, should be consulted whenever there is the potential for a change in the relationship between the University and faculty,  that could therefore be subject to collective bargaining. The SCFA is not taking a position at this point on the desirability or undesirability of working with Coursera.  Their concern, at this stage, is the maximal protection of faculty rights and authority, whether faculty participate or not in Coursera-hosted on-line courses. A Request for Information has been made to the university.
This issue touches on many curricular and academic issues including faculty ownership rights to their lectures. In 2000, CUCFA successfully lobbied for legislation establishing that individual professors, and not the University, own the intellectual property in their live performances and course materials. The effect of this legislation is to treat the recording and reuse of courses in the same manner as other forms of faculty publication, and to establish that the University has no more right than a note-taking service or a student with a video camera to publish our courses without explicit written consent. Viewed within this legal framework the contract template [Exhibit G-1] that faculty will be expected to sign before their courses can become available on Coursera appears to put the UCSC campus in the position of becoming the publisher of this material on Coursera and other platforms. "I hereby irrevocably grant the University the absolute right and permission to use, store, host, publicly broadcast, publicly display, public[sic] perform, distribute, reproduce and digitize any Content that I upload, share or otherwise provide in connection with the Course or my use of the Platform, including the full and absolute right to use my name, voice, image or likeness (whether still, photograph or video) in connection therewith, and to edit, modify, translate or adapt any such Content ("Content Enhancements') for the purposes of formatting or making accommodations to make Content accessible to persons who have disabilities." Moreover, both Exhibits G-1 and G-2 contain language indicating that the University's rights to publish "Content" would include distribution to "persons" and "entities" other than Coursera.
Any proposed contract between UCSC and members of our bargaining unit for publishing their courses online could be considered a change in the terms and conditions of that faculty member's employment that is, at least arguably, subject to mandatory collective bargaining before the proposed contracts are offered to and signed by individuals. In deciding whether to invoke its right to bargain, SCFA would naturally be interested in the specific terms of such contracts (e.g., their revocability, exclusivity and the rights of signatories to participate in and be informed of any monetization that occurs). And in deciding what our collective bargaining position should be SCFA will also be interested in the consequences of permitting and incentivizing individual members of our bargaining unit to agree to terms under which new or existing UCSC courses will be made available online to students on our own campus and/or at other institutions (including for-profits) where they might, at any time in the future, be taken for credit toward a UCSC degree. Depending on the campus administration's answers to these questions, the foreseeable consequences could affect the terms and conditions of employment for members of our bargaining unit, whether or not they as individuals agree to participate in Coursera. Finally, there is the question of what incentives might be given to present and especially future faculty to make the campus a publisher of their courses online. Any system of incentives to publish courseware through the campus (whether in the form of carrots or sticks) would almost certainly change the employment relation between the UCSC campus and all members of our bargaining unit.
These issues were not discussed with the SCFA, the exclusive bargaining unit for the UCSC faculty, prior to the signing of the contract between Coursera and UCSC. Since contracts to be offered by UCSC to individual instructors will constitute new terms of employment for members of our bargaining unit, we ask that all contract negotiations between the University and members of our bargaining unit be halted until the SCFA has received sufficient answers to its informational requests (including but not limited to those below) in order to determine whether to seek collective bargaining.
To expedite our consideration of collective bargaining we submit the following Request for Information:
•Was there a confidentiality agreement between Coursera and the campus? If so, at whose initiative was such an agreement undertaken? Who were the parties to this agreement on UCSCs side? If any Senate faculty were parties to the agreement, does the administration consider them to have been acting on behalf of the Senate? Was there any other form, official or unofficial, in which the Senate was consulted prior to signing the contract with Coursera? [SCFA has a responsibility under HEERA to determine in what manner the Senate was consulted, and on what range of issues, before determining how broad or narrow its role as a collective bargaining agent can be.]
•Has any member of SCFA's bargaining unit, other than administrators, signed the agreement needed to post their classes on Coursera? If so, we hereby request copies of the executed documents in addition to a full report of any side-letters and/or additional understandings about the nature and amount of any consideration offered or expected. More generally, SCFA asks that the UCSC administration, as a signatory to the contract with Coursera, clarify its view of the UCSC/Instructor agreements provided as Exhibits G-1 and G-2 attached that contract. Are these "forms" of agreement required by Coursera subject to negotiation and modification with individuals and/or (potentially) with SCFA? If so, would the campus expect such modifications to take the form of a change in the release document provided by the campus to Coursera or the form of a separate agreement setting additional terms and conditions on the employment relationship between the instructor and the campus? [This request is material to our need to know the new terms and conditions of employment that have been or will be offered to at least some members of our bargaining unit. To the extent that such terms have already been offered and accepted without notice or consultation with SCFA, we will need to determine what further requests to make regarding the actual commencement of such courses while discussions about bargainability take place.]
•What contracts have been signed by other campuses and/or UCO) with other online providers, including but not limited to EdX and Udacity? [While we do not assert the right to be involved in contracts other than those between the UCSC campus and UCSC Senate faculty, we believe the terms and conditions of these other contracts, which should be a matter of public record, will be directly relevant to our eventual assessment of whether the terms that UCSC has negotiated with Coursera are advantageous or not.]
•What plan does the campus have for monetizing its contract with Coursera? In what form, if any, does it expect participating faculty and/or the faculty as a whole to benefit from that plan?
•What plan does the campus have to reduce instructional costs as a result of its contract with Coursera? In what form, if any, would members of our bargaining unit benefit from that plan?
We consider this letter to place the campus on notice that some of the issues arising out of its contract with Coursera may be collectively bargainable and that it should cease implementation of those aspects of that contract until the issue have collective bargaining has been addressed in future meetings between us.
***********************************************
Creative Responses to Crisis in Education:
An SCFA Small Grants Program
Fall, 2012 Award Recipients
This fall the Santa Cruz Faculty Association chose recipients from among a strong pool of applications for its second annual program of small grants—ranging from $1500 to $10,000—for projects led by Academic Senate faculty at UC Santa Cruz. The mission and purpose of these grants addresses a need seldom met in UC funding sources: to encourage a connection between university research and our increasingly crucial advocacy of the idea of the public university.
Public research institutions have long been sources of strength for diverse intellectual, economic, and cultural dimensions of society. More recently, in the shadow of economic crises, public dialogue on the struggles of higher education has been focused on tuition and the costs associated with serving a growing number of students. But universities are not mere service providers and students are not mere consumers; they are larger communities of endeavor that draw innovation, ingenuity, and critical thinking together, sometimes from great distances, for common purposes.
The Santa Cruz Faculty Association's second annual grant program aims to direct some of the energy and creativity of the UCSC community toward research that foregrounds the broadest definitions of the university and its role in society. We received a number of interesting proposals for projects dealing with the struggles of higher education. We have funded two projects which we feel respond to the needs of our university at this time of crisis. Congratulations to the award recipients.
#1) Santa Cruz Commons: An Activist Research Project , Helene Moglen,  Research Professor, Literature
Participants in Santa Cruz Commons are community activists and activist academics who are seeking innovative solutions at the local level to social and economic problems that seem intransigent in a national context. Beginning in January 2012, representatives of local non-profit agencies and members of the UCSC faculty have been strategizing about the creation of collaborative forms of research and social activism. Their goals are to make the progressive work of the campus and the community visible and to define organizational forms and areas of research that will engage community problems, facilitate advocacy, and support partnerships that benefit the university and the county. The SCFA Grants Committee was impressed by the political imagination this project displayed and by its excellent public outreach/community building components. In many ways, this project makes concrete the value of a research university to its local community.
#2) Budget Cut Impact Survey: A Cross-Disciplinary, University-Wide Analysis, Miriam Greenberg, (Sociology) with Vanita Seth (Politics), Megan Thomas (Politics) and additional support from Ronnie Lipschutz (Politics) Deborah Gould (Sociology) and Chelsea Blackmore (Anthropology)
The members of this team propose to do a survey of faculty from across all major fields at UCSC on the impact of the budget cuts. We were all impressed by the way that this project makes use of faculty research skills to document the impact of budget cuts upon the university, and by their plan to disseminate the findings widely so as to make the most possible political impact.